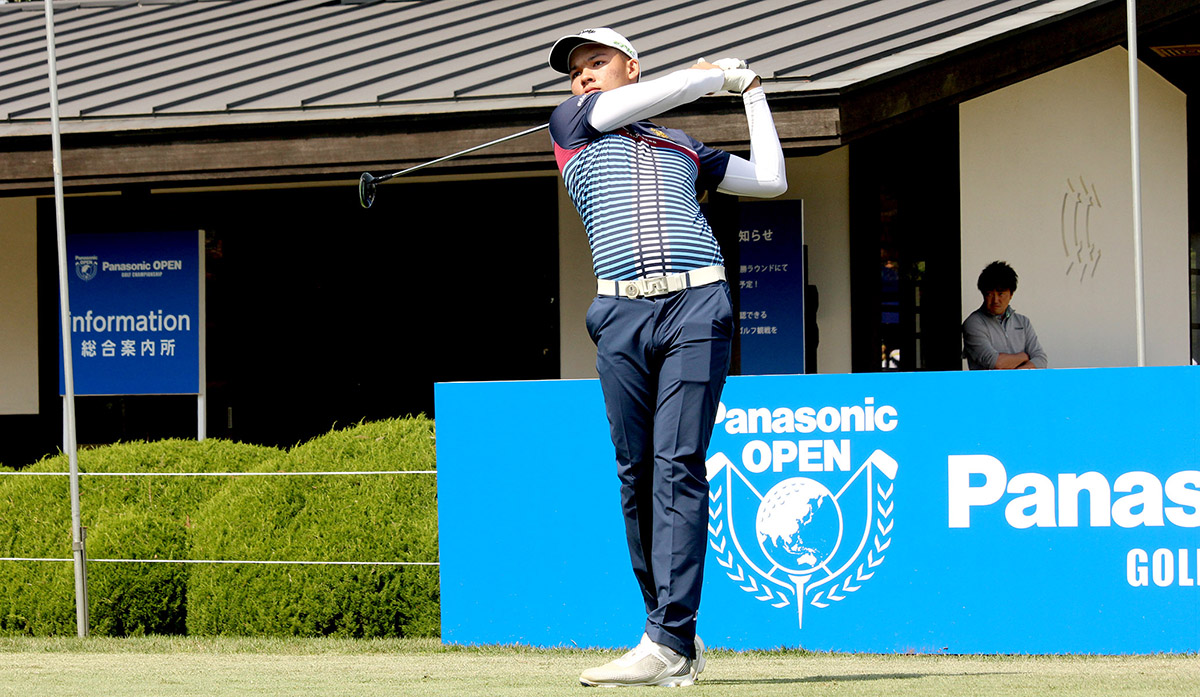 PRAYAD AND PHACHARA LEAD THAI CHALLENGES AT PANASONIC OPEN
BY N ON April Thu, 2017 09:41
PRAYAD AND PHACHARA LEAD THAI CHALLENGES AT PANASONIC OPEN
Sixteen Thai golfers led by Prayad Marksaeng and Phachara Khongwatmai are ready to vie for glory at the Panasonic Open in Japan on April 20-23.
The tournament, co-sanctioned by JGTO and Asian Tour, will be held at the Chiba Country Club, Umesato course in Noda City, Chiba prefecture. Joining the competitive field of 138 players are 16 Thailand's leading players spearheaded by veteran Prayad and young gun Phachara.
The 51-year-odl Prayad, who captured his 10th Asian Tour title and 6th Japan tour event in Singapore this year. The evergreen player is tipped to be among the contenders thanks to his winning experiences in Japan. He won six Japan tour titles and four of them were in Japan. He also won four Japan Senior tour titles last year, which earned him the Order of Merit award.
The father of two, who is the only Thai to have won on the Japan Tour, played at the Chiba Country Club which hosted the Japan Open 2014. He finished fourth on 7-under, three behind winner Yuta Ikeda.
"The course is in a good shape and there is no rough this year," he said.
"However, the key thing is the gusty wind and it will decide the winner."
"Because of the strong wind, the tee-time will be really important. To win here, you need a bit of luck."
Despite his age, Prayad believes he can match his younger rivals.
"Golf is my life and I'll continue to play and compete for as long as I can," said the golfer, who was crowned the Player of the Year award on the All Thailand Golf Tour last year.
"I always enjoy playing in Japan and I hope to continue doing well there too."
young gun Phachara is hoping that his wait for the first title of the year will be over this week. The Hat Yai native has enjoyed his solid start to the season after securing two runner-up finishes in Singapore and Australia. Two weeks ago, he suffered a final-hole double bogey to settle for a second place at the Singha Masters in the northern Thailand province of Chiang Rai, the most lucrative tournament on the All Thailand Golf Tour.
"That result in Perth was unbelievable. When I got home, I got so many people congratulating me and telling me how they liked my performance there," the 17-year-old said.
"Everyone was telling me to go for that win this year and I hope I can do so too."
"I just need that breakthrough and it should be okay as my record in Japan has always been good."
Other Thais are Panuphol Pittayarat, Thaworn Wiratchant, Prom Meesawat, Poom Saksansin, Pavit Tangkramolprasert, Udorn Duangdecha, Natipong Srithong, Rattanon Wannasrichan, Piya Swangarunporn, Danthai Boonma,Chapchai Nirat, Thanyakorn Khrongpha, Sutijet Kooratanapisan and Jazz Janewattanond.
Phanuphol is determined to ride on his rich vein of form after his win at the 18th Singha Masters a couple weeks ago. For veteran Udorn, he is eligible for the co-sanctioned event through the All Thailand Golf Tour.