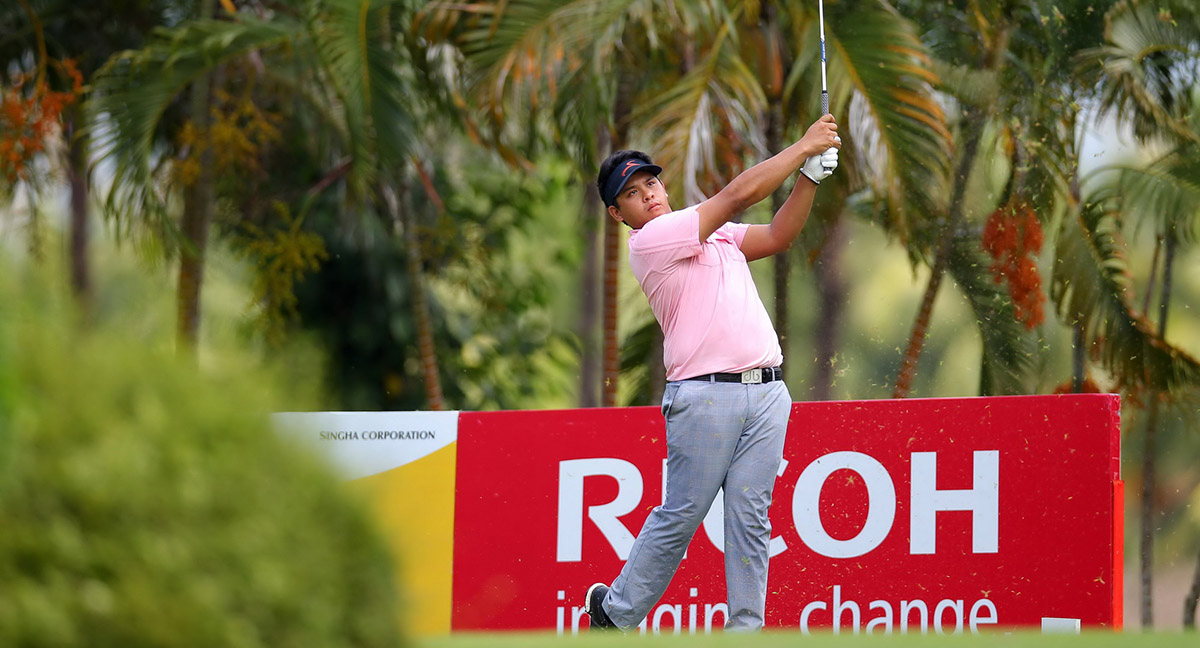 18th Singha Masters
Chanachok Looking For Second Win
BY N ON April Wed, 2017 16:16
Chanachok Looking For Second Win
Chiang Rai, Chanachok Dejpiratanamongkol will be in confident mood when he tees off at Santiburi Country Club, the venue for the 18th Singha Masters, on Thursday.
Fresh from winning his maiden professional title at the Singha Championship in Rayong last month, Chanachok expresses confidence in his game and hoped to build on that for his second straight win on the All Thailand Golf Tour.
"Yes, I am more confident after my win in Rayong,"said the 23-year-old from Tak, who beat Pavit Tangkamolprasert in the first play-off hole in Rayong.
The young gun, who was the 2016 Rookie of the Year , becomes cautious about the tough condition of the Santiburi Country Club.
"The course is in a good but tough condition. The rough is quite steep with a small green."
Missing the narrow fairway will make it more trouble. So, the key is to keep the ball in fairway and then give himself a birdie chance by putting the ball at the right spot. He added.
"The tee shot is really important."
While Chanachok hopes to carry his brilliant form for another week, he and other young guns are sure to be challenged by the likes of Prayad Marksaeng and Udorn Duangdecha. The 51-year-old Prayad recorded 19 wins with six titles in Ching Rai. The Hua Hin native, who won the Singapore Open early this year, is looking for a hat-trick title at the one of the four oldest events on the tour. He beat Chapchai Nirat in a playoff to win the 2014 edition after they each were on 10-under. Then, he made a successful defence of his title by storming to a three-shot win.
Despite failing to win any title in Chiang Rai, reigning Player of the Year winner Udorn is among contenders at the 5.3 million baht tournament. Last year, he made the cut in all ten events and enjoyed five top-ten finishes including his win at the All Thailand Premier Championship.
Prayad will be grouped with Phachara Klongwatmai and Mardan Mamat of Singapore in the first two rounds. Chanachok is in the company of Peradol Panyathanasedh and Wolmer Murillo of Venezuela.
Prom Meesawat, who won the inaugural edition in 1999, is going to play alongside Jazz Janewattananond and Namchok Tantipokhakul.
The 18th Singha Masters is serving as the third leg of the ATGT 2017 which will stage a minimum of 10 events with more than 31-million baht in prize money.
The prestigious Singha Masters was among five events staged when the tour was established in 1999. Other four events are Singha Hua Hin Open, Singha Classic, Singha Championship and Thailand Masters. Only six Thai players was successful here. Apart from Prayad and Prom, the title wen to Thammanoon Srirot (2001,2002,2005,2009), Thaworn Wiratchant(2007), Kiradech Aphibarnrat (2013) and Poom Saksansin (2014).