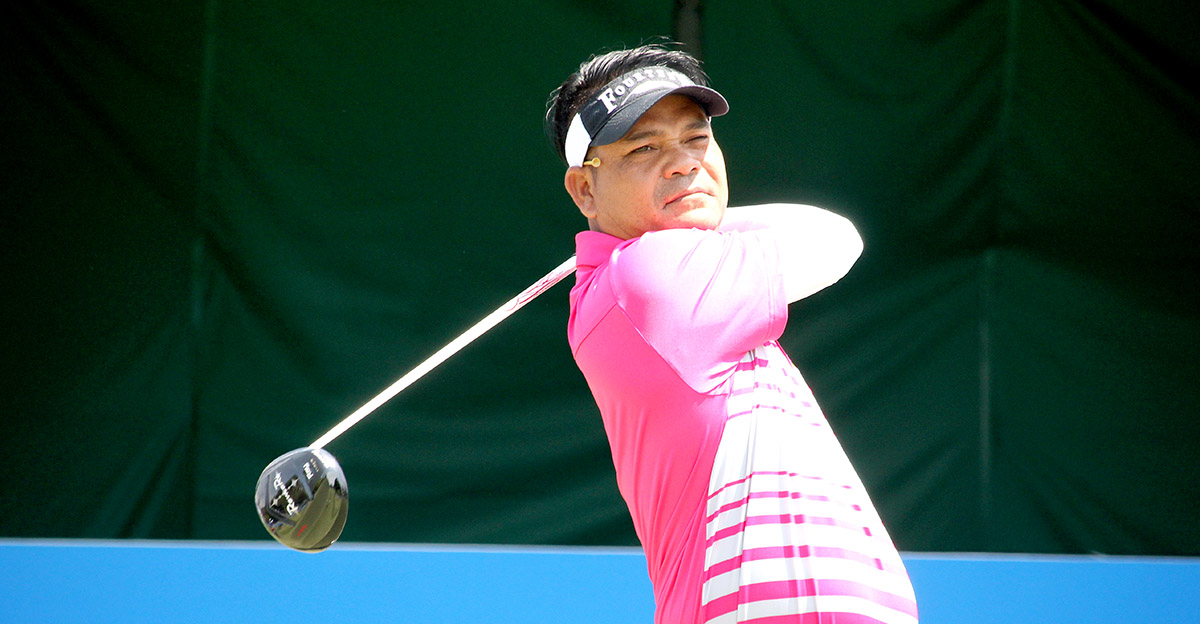 UDORN JUST TWO OFF THE PACE IN JAPAN
BY N ON April Fri, 2017 09:45
UDORN JUST TWO OFF THE PACE IN JAPAN
Thailand's Udorn Duangdecha posted a five-under-par 66 to stay two strokes behind the leader after the first round of the Panasonic OPEN in Japan on Thursday.
Udorn, who is eligible to play here following his second finish at the Singha Panasonic All Thailand Championship 2016, made an eagle and three birdies at the par-71 Umesato course, Chiba Country Club, in Noda City, Chiba prefecture. He tied for second alongside local Satoshi Kodaira. They were two shots behind leader Jason Khutzon of USA at the tournament jointly sanctioned by JGTO and Asian tour.
Panuphol Pittayarat, who is fresh from winning the Singha Masters in Chiang Rai, was joint fourth on 67 while compatriots Prayad Marksaeng and Prom Meesawat were a stroke down further.
The 46-year-old Udorn, who was crowned the 2016 Order of Merit award on All Thailand Golf Tour, said that the course suited his game.
"I like to hit the ball straight and I've managed to achieve that today," he said.
"I feel very confident when I play here."
The key thing is to keep telling himself not to be greedy but try to play his own game. He added.
"Don't be greedy. That's what I've been telling myself. If I cannot go for a birdie, just try to make par."
"I've been very lucky with my putting today and that helped."
Udorn's only Asian Tour win came at the King's Cup 2010 in Khon Kaen.
Panuphol, whose girlfriend passed away two weeks ago, the same week he won the Singha Masters in Chiang Rai, said that it was still tough to deal with such a loss.
"It was certainly very emotional having to deal with the loss," said the golfer, mentioning to his late lover, adding that he was alone in coping with such a tough situation.
"Despite my loss, and I'll keep playing the way I did that week for every week from now.
"I had a strong support and I was not alone in dealing with it."
He hopes to remain in form and land his maiden Asian tour and Japan tour title.
"I've a good chance this week and I'm looking forward to my breakthrough on the Asian Tour."
Six-time Japan tour winner Prayad, who mixed his round with five birdies and two bogeys, said that he felt comfortable playing at the course because he had played there several times. The only challenge was the wind. In the first round, he made few mistakes.
"I made poor putts at 5th and 16th. My score could have been even lower if I had not made those mistakes," the 51-year-old said.
"Every aspect of my game is good but if I need to improve on something, it would have to be my putting."
Sharing 37th on 71 included Thailand's Phachara Khongwatmai, Chapchai Nirat, Danthai Boonma, Rattanon Wannasrichan and Pavit Tangkramolprasert. Poom Saksansin, Natipong Srithong and Thanyakorn Khrongpha each fired a 73 on joint 85th.