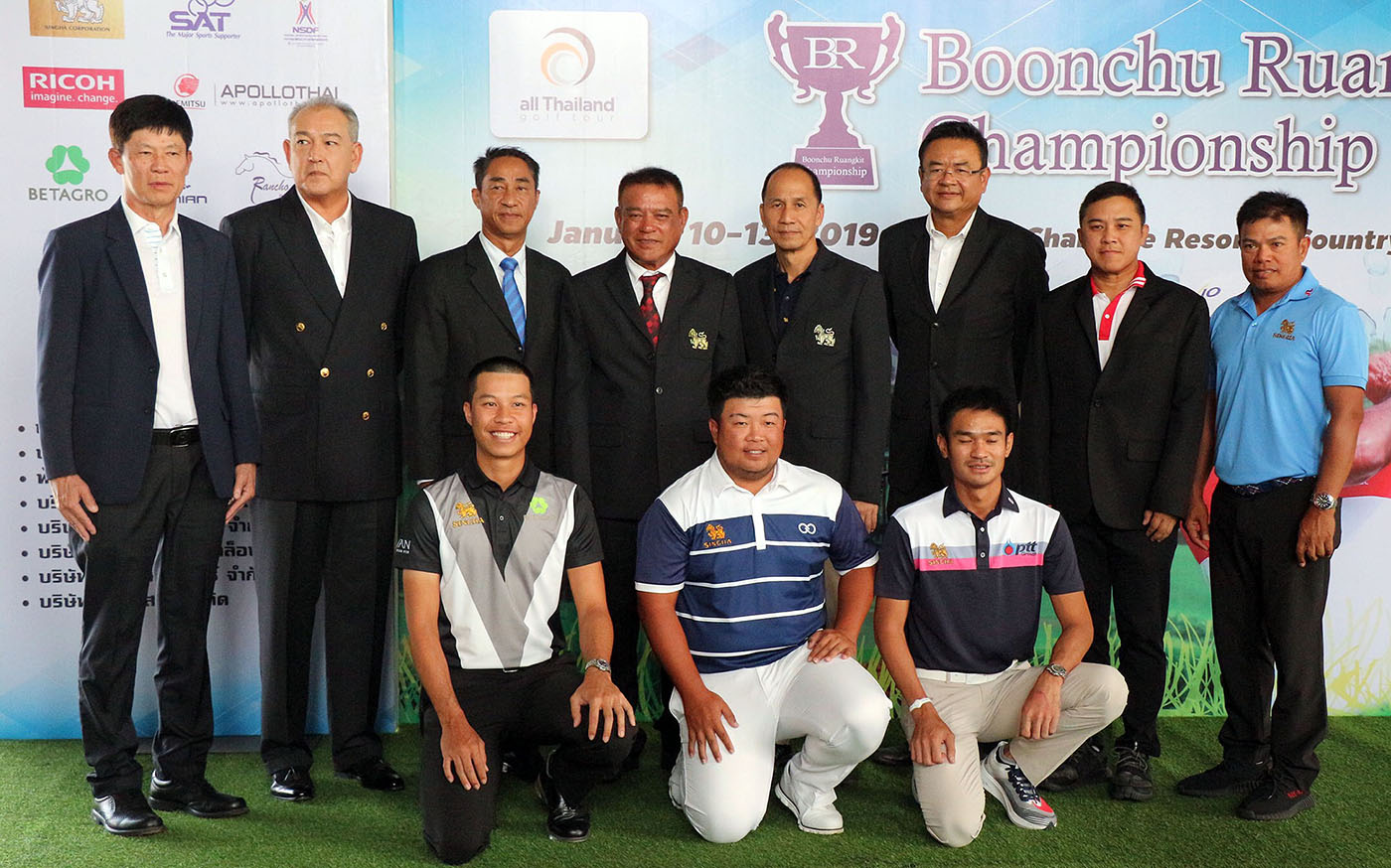 Boonchu Ruangkit Championship 2019
All Thai stars confirmed for Boonchu event
BY N ON January Mon, 2019 22:39
The Boonchu Ruangkit Championship will bring together all the Thai leading golfers when it kicks off a start to the 2019 All Thailand Golf Tour season in Nakhon Ratchasima on Thursday.
In its 5th edition, the four-million baht tournament will be held at Rancho Charnvee Resort & Country Club on January 10-13. To honor Thailand's golf legend Boonchu, it will serve as not just the curtain raiser for the 2019 ATGT season but the first ATGT event to get the world ranking points since its establishment 20 years ago.
"It is always a great honor to host the event," said the 62-year-old Boonchu, who got five Asian Tour titles and also five European Senior Tour wins.
"I am very grateful to all the sponsors who have helped this event since the first edition in 2015. Without them, we cannot be here today."
"We manage to get this done despite sluggish economy. So, I am really thankful for their supports."
Boonchu, also the former president of the Professional Golf Association of Thailand, added that with the world ranking points at stake for the ATGT and the new rules of golf into effect, the game would be more competitive and that would be a good way to inspire the golfers and entertain the fans.
"All Thailand Golf Tour and this event have continuously enjoyed the growth. I am sure it will help the golfers in the region develop their skills, giving them playing opportunities to play in the competitive field and in the great condition course."
Jointly-sanctioned by Asia Development Tour, the tournament will feature 156 golfers (60 ATGT players, 60 ADT players and 36 invites). The cut will be made after 36 holes with 50 golfers and ties qualifying for the final two rounds. The winner will take home 700,000 baht.
All the country's leading golfers led by world no. 37 Kiradech Aphibarnrat, Thongchai Jaidee, Jazz Janewattananond, Poom Saksansin, Panuphol Pittayarat, Prayad Marksaeng and Tirawat Kaewsiribandint have made the confirmation for the event. Former PGA tour golfer Daniel Chopra of Sweden has confirmed to join the tournament, who is also the first one on the 2019 ADT calendar.
Rising stars Sadom Kaewkanjana and Kosuke Hamamoto, who are among seven Thai to have earned Asian Tour cards a couple weeks ago, are also the players to watch. Both Kosuke, who will make his professional debut, and Sadom won the ATGT events as an amateur with the former beating Nicolas Colsaerts to secure the Singha Classic title in 2015 and the latter getting the 2017 Singha Pattaya Open victory. All the former champions - Namchok Tantiphokakul (2017), Danthai Boonma (2016), Phachara Khongwatmai (2015/2), Ratthee Sirithanakulsak (2015/1), are also in the field.