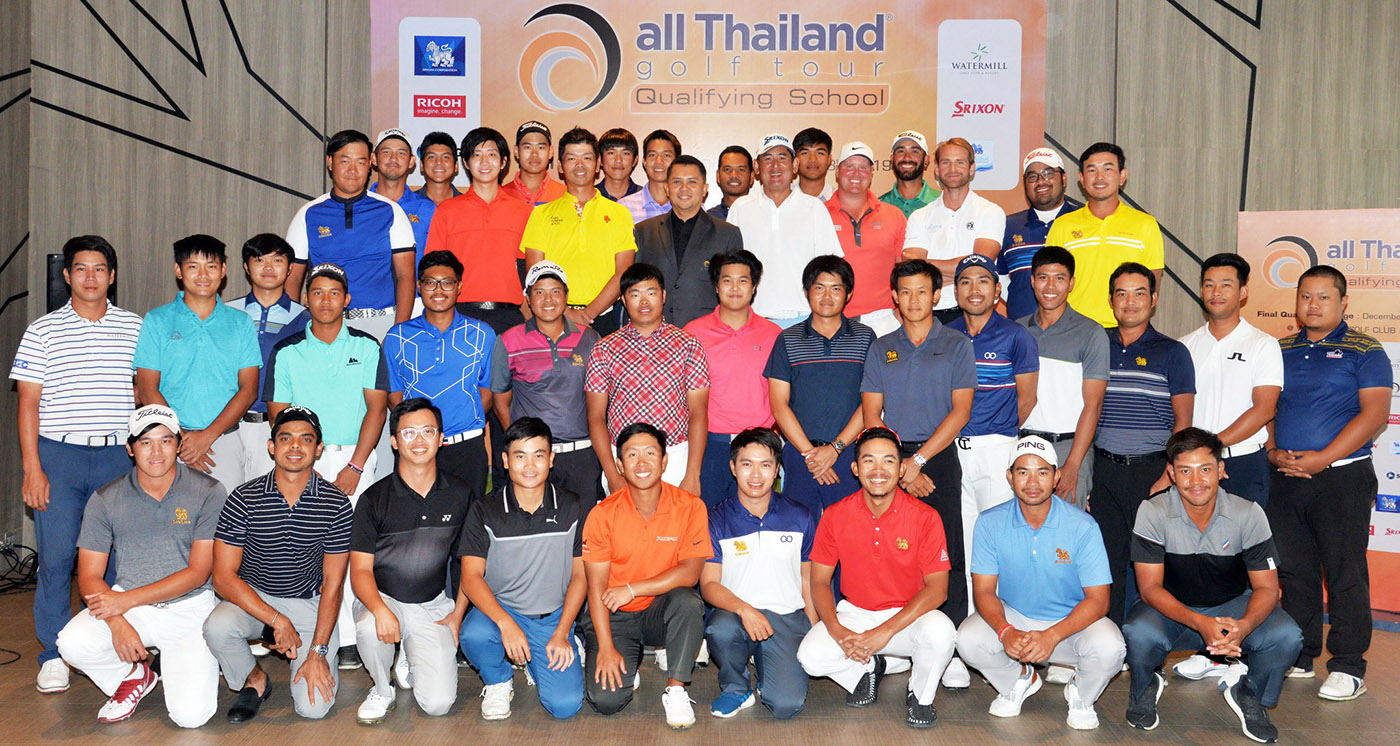 2020 Qualifying School Final Stage
Amarin wins the ATGT Q-school
BY N ON December Sun, 2019 10:29
Amarin wins the ATGT Q-school
Amarin Kraivixien closed with a 2-under-69 to win by one shot at the final stage of the All Thailand Golf Tour's Q-school on Friday.
The 22-year-old, making five birdies and three bogeys, was on 6-under-278 in total at the 72-hole competition of which top-40 and ties will earn the tour card for the 2020 ATGT.
It was another win for Amarin at the Watermill Golf Club & Resort after he had taken his first professional title at TDT tour in July.
Pattaraphol Khanthacha carded a final 69 to finish second on 5-under. Forty-three players have earned the ATGT 2020 cards and among them are eleven foreign golfers led by American Tarik Can who came in third on 4-under 280.
Nutdanai Nuangjaknin (67) and Pitipat Pitimana-aree (72) were joint 4th on 3-under while overnight co-leader Tatsuhiko Takahashi shot a 75 to join local Pijit Petchkasem (74) at 6th on 2-under.
Amateur Yuto Wantanabe of Japan, who joined compatriot Tatsuhiko after round three, carded a 75 a tie of 8th with four golfers including Gookmin Kim of South Korea.
Forty-three qualifiers : Amarin Kraivixien, Pattaraphol Khanthacha, Tarik Can, Nutdanai Nuangjaknin, Pitipat Pitimana-aree, Pijit Petchakasem, Tatsuhiko Takahashi, Jakkapat Horsangchai, Gookmin Kim, Mahasamuth Saiyasombat, Yuto Watanabe,
Yuichiro Nishi, Waren Ieamgaew, Thammasack Bouahom, Kittikun Putisanon, Pattarapon Lostapornpipit, Jittakorn Nuamthanong, Pitchakorn Tirakul, Pataweekarn Kummontree, Oscar Zetterwall, Chirat Jirasuwan, Weerawit Sakuncharoenrat, Ollie Roberts, Thanatip Puaktes, Bhurinat Songpaiboon, Thanakorn Thipayachan,
Thepbodin Amaranan, Philip Matsson, Parama Chansue, Chayodom Chanjaruphong, Natchapol Srinoon, Hao-chuan Fan Chiang, Paranchai Rupamarn, Tanameth Tanachokvisit, Wongsakorn Pikunsawat, Wongsakorn Choowong, Woradech Jangpan, Prin Sirisommai, Somprad Rattanasuwan, Koravich Inmee, Syed Saqib Ahmed, Lindsay Renolds and Jakkanat Inmee.
===========================
43 นักกอล์ฟ คว้าสิทธิ์ออลไทยแลนด์ 2020
อมรินทร์ หวดเข้ารอบที่ 1
การแข่งขันออลไทยแลนด์กอล์ฟทัวร์ คิวสคูล 2020 ไฟนอลสเตจ รอบสุดท้าย ที่สนามวอเตอร์มิลล์ กอล์ฟ คลับ แอนด์ รีสอร์ท จังหวัดนครนายก เมื่อวันศุกร์ที่ 13 ธ.ค. 62 ที่ผ่านมา ได้ 43 นักกอล์ฟ คว้าสิทธิ์เป็นสมาชิกออลไทยแลนด์กอล์ฟทัวร์ 2020 ในลำดับสิทธิ์ที่ 15 โดย อมรินทร์ กรัยวิเชียร เข้ารอบเป็นที่ 1 ด้วยสกอร์ 6 อันเดอร์พาร์ 278 ส่วน ภัทรพล ขันทะชา เข้ารอบเป็นที่ 2 ด้วยสกอร์ 5 อันเดอร์พาร์ 279 ด้านโปรอเมริกัน ทาริค คาน เข้ารอบเป็นที่ 3 ด้วยสกอร์ 4 อันเดอร์พาร์ 280 สำหรับออลไทยแลนด์กอล์ฟทัวร์ฤดูกาล 2020 ประเดิมรายการแรกด้วยรายการบุญชู เรืองกิจ แชมเปี้ยนชิพ โดยแข่งขันระหว่างวันที่ 23-26 มกราคม ที่สนามกอล์ฟ แรนโช ชาญวีร์ รีสอร์ท แอนด์ คันทรี คลับ