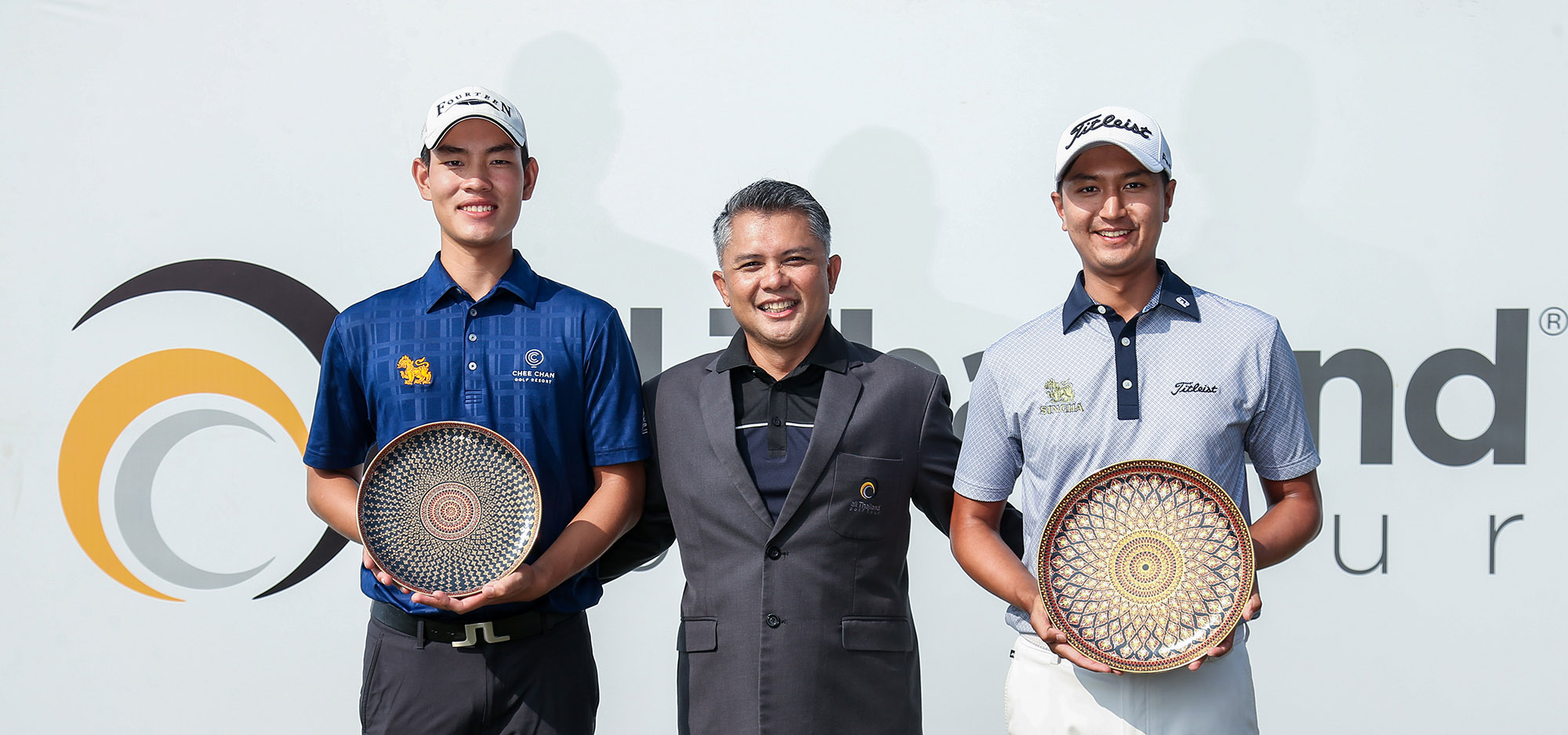 Sadom secures ATGT's no. 1, Denwit awarded Rookie of the Year
BY N ON December Mon, 2021 16:42
Sadom secures ATGT's no. 1, Denwit awarded Rookie of the Year
Sadom Kaewkanjana has been crowned the 2021 All Thailand Golf Tour Order of Merit champion after putting on impressive performances, winning three titles in seven attempts.
The 23-year-old golfer has been consistent throughout 2021, winning three titles – Singha Laguna Phuket Open, Thailand Open and Singha E-san Open and finishing second on two occasions.
"It is a great honor to win the Order of Merit award on All Thailand Golf Tour. I am really proud of myself. I want to thank all the supports from my parents and all sponsors," said the golfer, who finished 6th at the season-ending Singh Thailand Masters at Santiburi Country Club on Sunday.
"Starting the season, I did not expect to win this award at all. However, I have been playing so good and very consistent this year."
The player from the Southern province of Narathiwat has so far bagged five ATGT titles including the Singha Pattaya Open 2017 when he won as an amateur.
Sadom was in the winning team at the 2017 Nomura Cup, the Asia-Pacific Golf Team Championship, in Malaysia. He has also become the record fastest qualifying school graduate to win on Asian Tour at the Bangabandhu Cup Golf Open in 2019.
The Rookie of the Year 2021 award went to Denwit David Boonriboonsub. The 17-year-old from Chon Buri, who finished tied for 6th at Singha Thailand Masters on Sunday, the final leg of the ATGT 2021.
Denwit made nine starts on the ATGT 2021 and recorded 3 top-10s, highlighted by a win at the Singha Chiang Mai Open at Maejo Golf Resort and Spa. He finished fourth on the money list.
"Now, I am over the moon. At the beginning of the year, my goal was just to try my best and get a good result. But I did not expect to win this award," said the golfer, who turned pro 11 months ago.
"However, I believe that I can do better because there is still a room for improvement."
ATGT commissioner Jakraphong Thongyai congratulates both Sadom and Denwit for the awards and believes that they could build on their achievement for more success in the future.
"On behalf of All Thailand Golf Tour, I'd like to congratulate Sadom for his OOM this year. Many of his achievements have shown us that he is very well deserved. Being OOM winner will always be his solid stepping stone before shining internationally in the near future. We are super proud of you."
As for Denwit, the commissioner said that his achievement underscores the tour's mission in promoting golf at all generations. Denwit has kept on proving an amazing talent at a professional level since joining the tour through ATGT's Q-school early this year.
"On behalf of the All Thailand Golf Tour, I'd like to congratulate Denwit for winning the prize of Rookie of The Year. With an outstanding final round at Singha Chiangmai Open to win his first professional event, we can't do anything else but to applause him for his winning. As long as he keeps fighting, ATGT will always be right beside him."